In a discussion by journalists Dave Glowacz and Ben Joravsky, Dave and Ben heard and assessed parts of the September, 2022 meeting of the full Chicago City Council.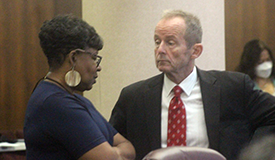 Alds. Michelle Harris (8) and Tom Tunney (44) talk during the
Sept. 21 City Council meeting. Photo by Dave Glowacz.
In the standard version of the episode, audio illustrated aldermen's arguments over a proposed rezoning of Chicago Housing Authority land. The deal would advance a new facility for the Chicago Fire soccer team, which is owned by billionaire Joe Mansueto.
In the premium version of the episode, audio revealed zoning committee chair Ald. Tom Tunney's maneuvers to further the soccer facility scheme.
Also in the premium version, audio showed how the city council's confirmation of Mayor Lori Lightfoot's choice for a new alderman in the 43rd Ward could lead to a showdown over council autonomy.
Finally, in the premium version, audio featured a North Side alderman speaking against a police misconduct settlement—while inviting colleagues to inspect his knife.
Length 11.3 minutes standard, 52.8 minutes premium.
Standard audio:
Premium audio: